Regular price
Sale price
€5,00 EUR
Unit price
per
Sale
Sold out
Create your box | Size M
Choose the flavors to compose your pralines. You can select 18 modular taste modules to create up to 216 possible praline combinations.
Gift idea, perfect for a dinner with friends, customizable chocolates, ingredients selected from Italian and international typical products and excellence .

The price starts from €5 and the final value is determined by the selection of flavours.

Order processing times 3/5 days.

The praline modules are not sold separately.
Do you want to make corporate gifts?
Ingredients

They vary according to the selected tastes. The package will report all the ingredient details as per selection.
Shipping and Returns

General conditions of online sale on Shockino.

The customer fully accepts all the points of these conditions of sale. These conditions can be modified by Shockino at any time and published on this page, therefore it is advisable to visit this area of ​​the site frequently to verify any changes made.

Shockino Mix Experience is a brand owned by Shockino Srl Via Pirandello 45/C – 86100 Campobasso – Italy – VAT and Fiscal Code: 01770500708 – REA: CB-202255.

1.1 In the following, Shockino will refer to Shockino Srl and the customer will refer to the final user (customer), regardless of whether it is a natural or legal person. Therefore the sales contract is to be understood as stipulated with Shockino Srl

Shockino also reserves the right to modify all or part of its site at any time. These changes may concern products, prices and more. Shockino declines all responsibility for costs, losses or damages deriving from various and eventual circumstances for which it is not directly responsible, such as the possible lack of telecommunication service. Despite the commitment to operate in the utmost legality and in compliance with the rules, in the event that cases arise where these rules are not respected by inconvenient third parties such as ill-intentioned or crackers (malicious hackers), Shockino is in no way responsible and declines any request for reimbursement of damages or any other type of legal liability. Furthermore, anyone who uses Shockino 's services unconditionally accepts the rules set out in this document. Shockino undertakes to execute each order, in the event that for technical reasons, it will not be possible to close an order, Shockino undertakes to contact the customer and to compensate the customer for the price paid for the same, nothing else will be due in this eventuality.
To use the services of Shockino you must register by entering your personal and fiscal data which will be treated according to the law on privacy and you must have reached the age of majority. The customer using our services automatically declares to be of age. It is a crime to use personal data of other physical or legal persons unless authorized. Shockino declines all responsibility for any inaccuracy of the data entered.
The characteristics of the products and the relative prices, including or excluding VAT depending on the promotion, are shown in the order summary and in the invoices that the customer will receive upon delivery. The order quantities of the products are indicated in the description, reference and quantity depending on whether they are pre-established quantities or individual products.
The payment methods that Shockino has arranged on the site are as follows:

5.1 Online payment by credit card and via PayPal account : this type of payment requires the balance to be paid on order and is guaranteed by the Stripe platform, Shopify Payments and the PayPal circuit. Paypal payment rules are available on paypal.com and outside our possibilities. For Apple Pay, Google Pay and Satispay payments, refer to the rules available on their sites.

5.2 Payment by bank transfer: this type of payment is regulated by the banking circuit which provides for a few days of value, therefore the shipment will be made from the moment the payment is displayed on our bank account.

5.3 Payment in cash: this payment is foreseen only upon collection of the goods in our headquarters by telephone agreement on +39 0874 68 62 58 .

SHIPPING AND DELIVERY

The terms indicated are to be understood as working days, therefore excluding Saturdays, Sundays and national holidays. The images and descriptions on the Site are to be understood as merely indicative. The colors may differ from the real ones due to the settings of the IT systems or the computers you use to display them.

There

 

delivery

 

of the goods to the customer in Italy by courier generally takes place in 24/48 hours during working days (for the islands and Calabria the delivery time can be longer than 48 hours). During peak seasons, order preparation and delivery times may vary.
Shockino will never be directly or indirectly responsible for any delay in delivery by the carrier and even less for loss of parcels and/or damage for reasons not attributable to itself.
The shipping cost is calculated automatically by our software and refers to rates agreed with logistics providers. The shipping cost is always indicated at the time of payment. Delivery does not include order preparation times. Some rates may vary on the basis of zip codes defined as "disadvantaged" by courier list or for additional weights.
Orders placed and confirmed after 4 pm are to be considered after the date of payment (if done digitally). For orders paid by bank transfer, at least two additional working days are required for verification and payment tracking.

INFORMATION ON REFUNDS RIGHT OF WITHDRAWAL

The customer has the right to withdraw from the contract concluded with Shockino , without any penalty and without specifying the reason, within 14 days starting from the day of receipt of the products purchased on www.shockino.it

To withdraw from the contract, the customer must fill in the withdrawal form also present on this page. Or draw up and send to Shockino an explicit declaration of your decision to withdraw from the contract.

It is possible to withdraw from the contract both before shipment, with a direct refund net of any commissions withheld by operators (e.g. Paypal, payment circuits, etc etc ...) and after shipment.

Once the right of withdrawal has been exercised, the customer must return the products to Shockino within the term of 15 days starting from the date on which he communicated his decision to withdraw from the contract to the seller.

The costs of returning the goods will be borne by the customer , as well as the responsibility in case of loss or damage to the products during transport.

The right of withdrawal, in addition to compliance with the terms and methods described above, is understood to be exercised correctly if the following conditions are also met:

Transmission of the withdrawal form or other explicit declaration of one's intention to withdraw from the contract within the terms established by these general conditions of sale;
The products must be returned in their original packaging, intact and sealed, imperatively undamaged.
In the event of non-conformity of the products, the customer may request their replacement or reimbursement of the amounts paid. The customer must, where evident, take photos of the defect, send them to the address info(at)shockino.it 
Shocker

 

will evaluate the request promptly and will contact the customer to inform him about the acceptance or otherwise of his refund/replacement request. Also in this case the goods, if defective, must be sent back to our home and the costs will be borne by the customer.
Outdated refund or replacement requests are not accepted

 

14 days from the delivery date.
Claims in the event of non-compliance deriving from causes relating to transport will not be accepted if the wording "WITHDRAWAL SUBJECT TO CONTROL" has not been specified in the express courier receipt.

EXCEPTIONS FROM THE RIGHT OF WITHDRAWAL

In any case, it is understood that, with reference to the provision of services, the right of withdrawal cannot be exercised by the customer after the complete supply of the products by Shockino . If the supply itself has begun with the express agreement of the customer and the latter has accepted to lose the right of withdrawal following the full execution of the service by Shockino.
In any case, pursuant to art. 59 of the Consumer Code, goods made to measure or customized or which, by their nature, cannot be returned or are subject to rapid alteration or deterioration are excluded from the possibility of withdrawal.

If the right of withdrawal is exercised according to the methods provided, Shockino carries out the necessary checks relating to the conformity of the returned products and reimburses the sums due within 14 days from the date on which Shockino returned possession of the goods;

Shockino refunds using the same means of payment used by the customer for the purchase of the returned products, unless otherwise agreed between the parties.

If the methods and terms for exercising the right of withdrawal are not respected, the customer will not be entitled to reimbursement of the sums already paid to Shockino .

The law applies to the product purchased in its entirety; therefore if the product is made up of several components or parts it is not possible to exercise the withdrawal only on part of the product purchased.

In addition to the cases indicated above, the right of withdrawal is excluded in the following cases, pursuant to art. 59 Legislative Decree 21/2014:

order of Products made to measure or clearly personalized;
ordering Products that are likely to deteriorate or expire rapidly;
order of sealed Products that are not suitable for being returned for hygienic or health protection reasons or that have been opened after delivery.

With reference to the cases of exclusion of the withdrawal listed above, the customer , in particular, is informed and accepts that the products that "risk of deteriorating or expiring rapidly" include all food products as the characteristics and qualities of these types of products they are also subject to alteration as a result of inappropriate storage.

Therefore, for hygienic reasons and for the protection of buyers, the right of withdrawal is applicable only for products purchased on the site which can be returned to Shockino and then put back on the market by the same without endangering the health of consumers.

In cases of exclusion of the right of withdrawal, Shockino will return the purchased products to the customer , charging the shipping costs to the customer.

If the order that the client wishes to return also contains free products (for example, an order acquired during a promotional campaign which provided for the delivery of free products), the client must also return the free product with equal conditions to those described above.

Click here to download the withdrawal document.

PRIVACY POLICY

Information pursuant to article 13 of Legislative Decree 30 June 2003, n.196 (Code regarding the protection of personal data)

Your personal data will be used by the company Shockino Srl (supplier of the services advertised on the site) and communicated to other companies or firms, in full compliance with the fundamental principles dictated by current legislation.

Your personal data will be used exclusively to allow us to respond to your requests and propose solutions and quotes relating to our products and services.

The treatment will take place in manual mode. The data controller is Shockino Srl and Mr. Piergiorgio Carozza is responsible for the treatment.

To exercise your legal rights or request further information, simply send a written request to:

Shockino Srl Via Pirandello 45/C, 86100 Campobasso, Italy - VAT and Fiscal Code: 01770500708.
Dimensions and weight

16×16.5×4.5cm

gross weight: 0.129kg

net weight: 0.084kg
storage

Store in a cool, dry place. Chocolate should preferably be kept between 15° and max 21°.

Do not refrigerate
Share
View full details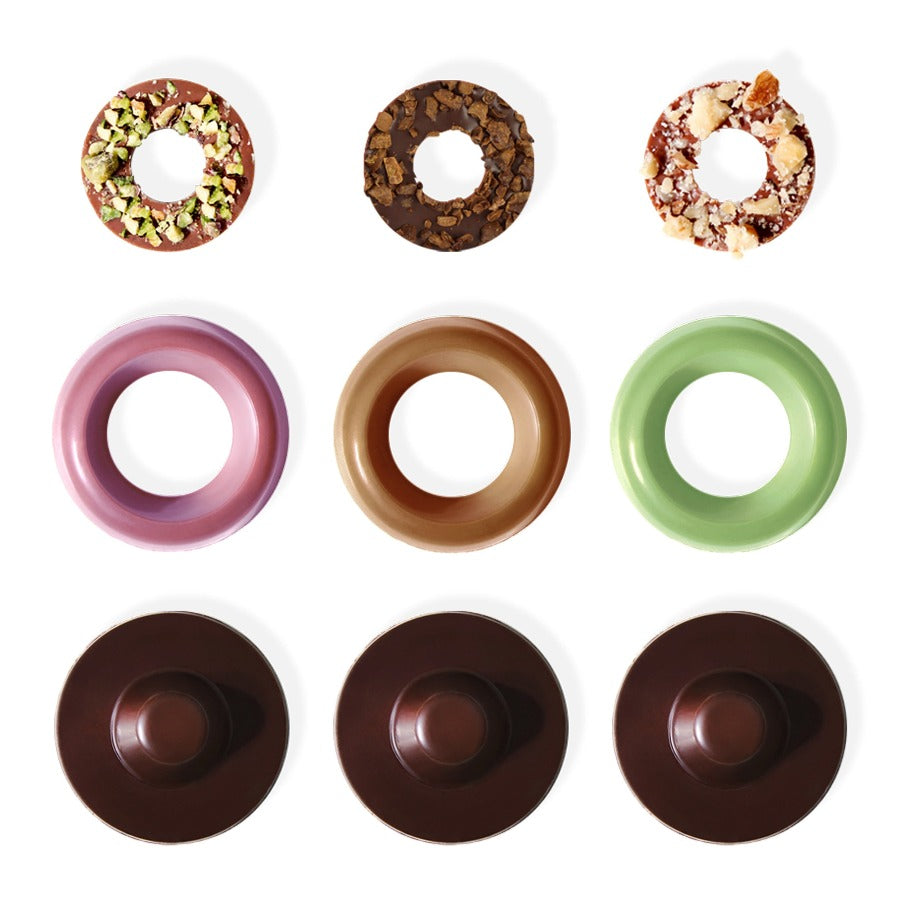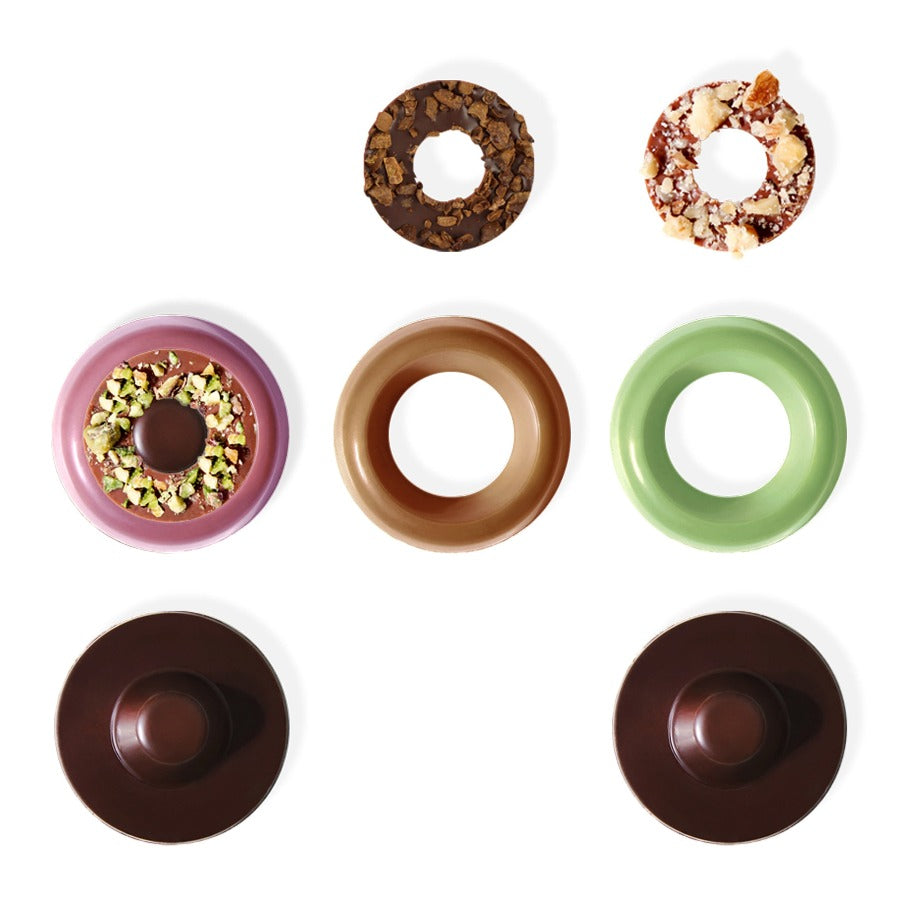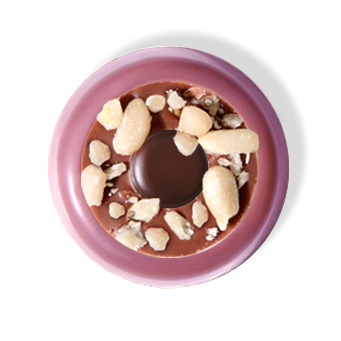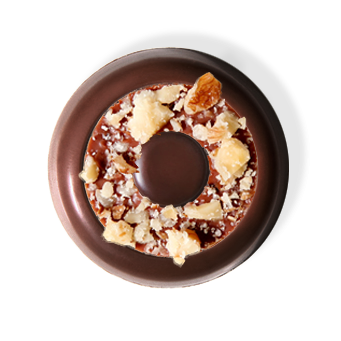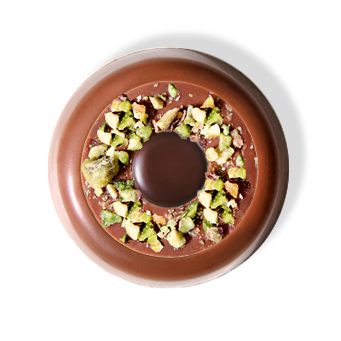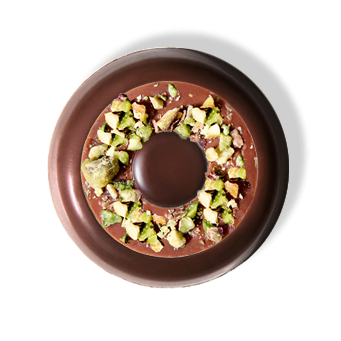 Ingredients and Flavors
Our
"Made in Molise"
product lines are born from a careful selection of raw materials.
100% OF OUR INGREDIENTS ARE OF NATURAL ORIGIN.
We carefully select each ingredient directly from farms or from the best suppliers of natural products.
WE DO NOT USE COLORANTS
WE DO NOT USE ARTIFICIAL FLAVORS
WE DO NOT USE PALM OIL
Dried fruit, essences, candied fruit, jams, marmalades and jellies preferably belonging to the IGP , BIO , DOP , DOCG categories.
We manage over 30 flavors and genuine ingredients from the Italian and international territory. Combined with chocolate, they ensure a unique experience in the world and a perfect gift idea.
Our products are:
Modular pralines

Chocolate bars

Spreadable creams

Easter eggs

Covered candies

Semifreddo in a jar
All dedicated to those who like to create their own experience,
experiment and discover
something different every day.
Personalizza il tuo cioccolatino
Myrtle - Ruby - Pine nuts

An idea mix with a fruity, slightly acidic taste and completed by the aromatic notes of Sardinian myrtle and woody pine nut.
The combinations are endless, find your favorite!

Hazelnuts - Milk - Pistachios

A classic, suitable for all palates. At the base the hazelnuts in cream, a milk chocolate ring and a grain with the unmistakable taste of pistachios.
Each mix is a new taste experience.

Red Hot Pepper - Dark - Walnuts

The right mix! Dark chocolate combined with chilli pepper for a strong and challenging taste. The walnuts complete the experience by spreading a woody and drier scent. To try!
Discover the Mix Experience
Are you undecided?
Try our Experience box with a selection of 18 flavors (repeated twice) and 36 pralines to combine to create 12 of the 216 possible Mixes.
You can't go wrong!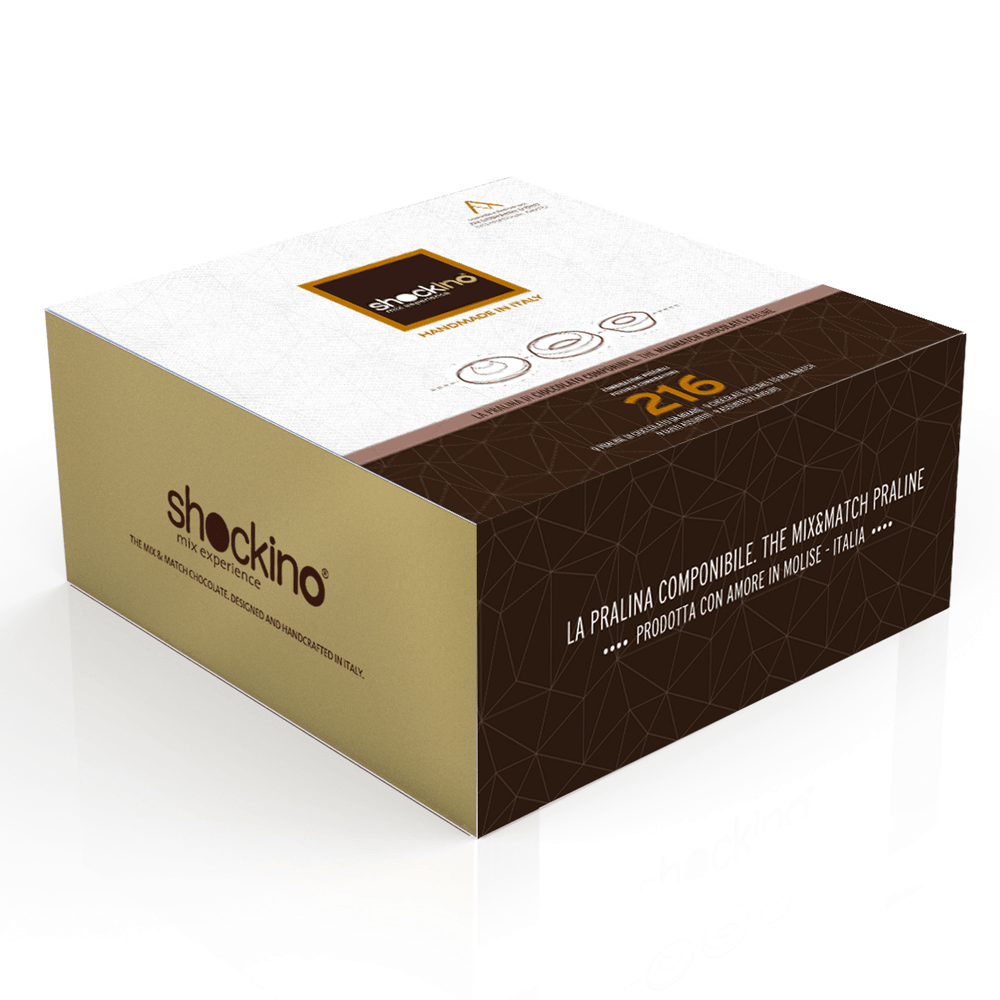 Mix Experience modular pralines 216 L
Regular price
€24,00 EUR
Sale price
€22,00 EUR
Unit price
per
Sale
Sold out
Share
View full details